Group Exhibition Hirosaki Encounters
Terroir of Apples / Hirosaki: Magnetic Field for Myriad Encounters
at Hirosaki Museum of Contemporary Art
2021.10.1 ― 2022.1.30
Cerith WYN EVANS,SAITO Lei,SANO Nui,TSUKAMOTO Etsuo,
MURAKAMI Yoshio
Guest Curator : MIKI Akiko
Installation Photo : Sho Shibata

===

Journeys End in Lovers' Meetings,

"My dear chap, I am overjoyed to see you.
Sit down and tell me how you came alive
out of that dreadful chasm."
Sir Arthur Conan Doyle
"The Adventure of the Empty House"
in The Return of Sherlock Holmes

+

This is the story of how I, a man born in Hirosaki, lived, and how I died.

卍





"Birth" Pencil, ink, Japanese ink, cotton paper 27.9×21.5 cm


I slowly open my eyes.
Everything is white, as if shrouded in mist.

It was spring in Hirosaki when I was born, early enough there was still snow.

Food was piled high in special dishes of Tsugaru lacquer—a grand celebration.

My mother was the daughter of a jeweler, my father a military doctor attached to the 8th Division Army Hospital in Hirosaki. He specialized in radiography.

His was a lineage of doctors, and I was to be the eleventh.

At the time I was born, in the town of Crowborough in Sussex, England, Sir Arthur Conan Doyle, creator of the famous detective Sherlock Holmes, was dying, having suffered the latest in a series of heart attacks.

Doyle looks out through a window framed by overgrown ivy at the rose garden planted by his second wife.

Doyle died the next year. He was seventy-one.

A devotee of spiritualism in his later years, he regarded even his own death as "nothing more than a passage to the next world."

+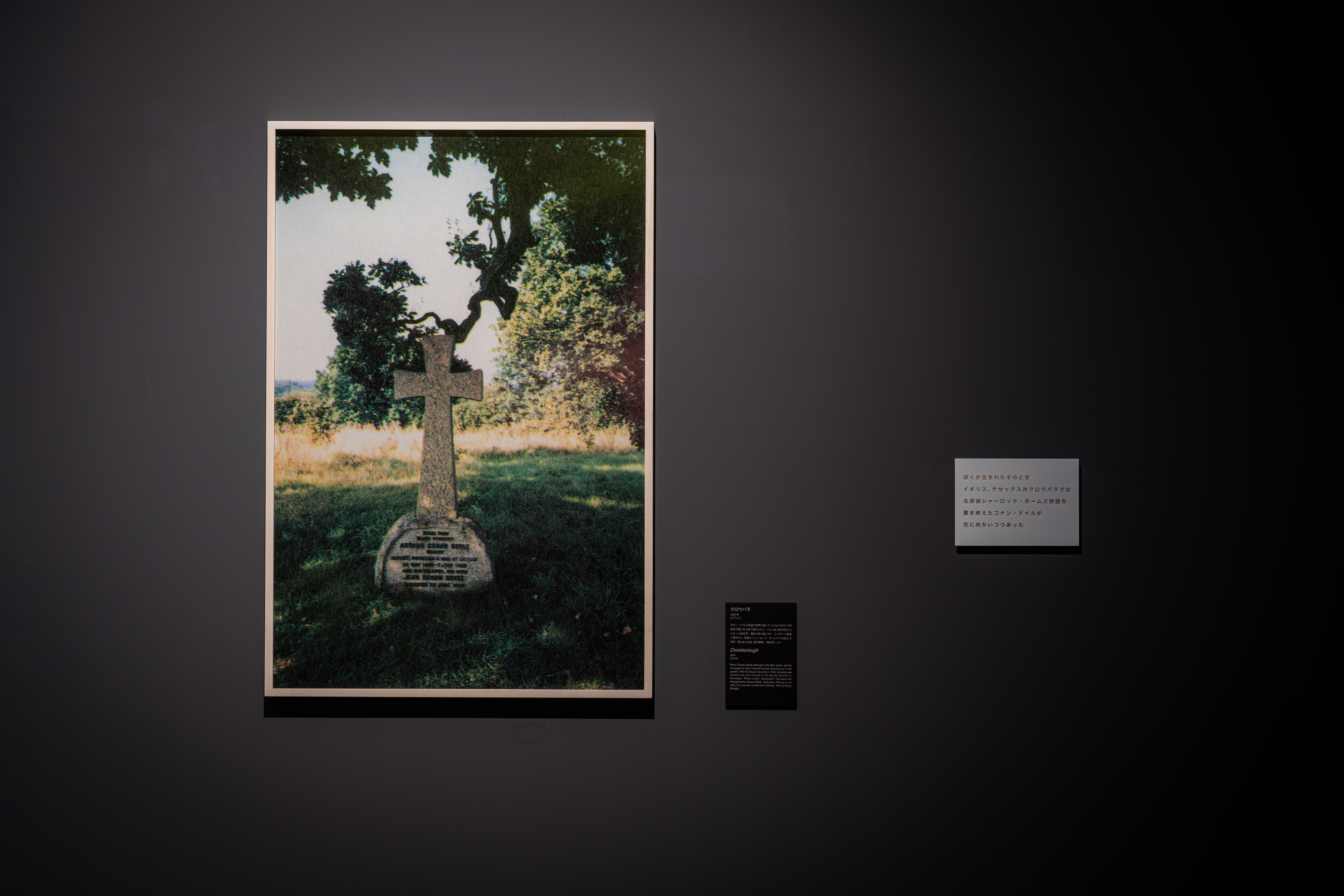 | | |
| --- | --- |
| Photo credit: Kobayashi Tsukasa and Higashiyama Akane, Shārokku Hōmuzu e no tabi 2 (A Journey to Sherlock Holmes, Part 2), (Tokyo Shoseki). |   |
Digital C-print 95.0×60.0cm

Arthur Conan Doyle believed in life after death, and he arranged to have himself buried standing up in his garden. After his house was sold in 1940, his body was disinterred and moved to All Saints' Church in Minstead.




Mist rises from the river.

Our maid carries me on her back along a busy street to visit the famous Kakuha Miyagawa Department Store—it even has an elevator!

There's a gable-roofed theater showing moving pictures. There's a kimono store in a Western-style building with a balcony so spectacular people use it as a landmark. There are so many cafes.

Hirosaki has been a bustling military city ever since the 8th Division came to town.

The old Hirosaki Castle was transformed into a gunpowder repository, the daimyō's villa redone in Renaissance style to become an Army Club.


I close my eyes, then slowly open them.

I see Mount Iwaki in the distance, towering above the city.





"Mount Iwaki" Wax, Ink, Japanese ink, Japanese paper, Light


+

I was two years old when I left Hirosaki.

As my father, the military doctor, was transferred to various places in Japan and Manchuria, I was brought along as well.

A sickly child, I spent most of that time asleep.

A doctor—not my father—said to my mother,

"I don't believe this child will live to see his tenth birthday."

My mother counted on her fingers.

They glittered with the diamond rings she'd brought with her as a dowry.

+




The 8th Division Commander's Residence Ink, Japanese ink, Japanese paper, mirror 109×74cm

The 8th Division Commander's Residence was designed in 1917 by Horie Hikosaburō, eldest son of Horie Sakichi, the famous architect. After the end of World War II, the Residence was converted into the headquarters for Allied expeditionary forces. Currently, it serves as the Hirosaki Park location for Starbucks Coffee.



Not long after I left, the 8th Division began to leave too.

Soon they all marched off to the battlefields of Manchuria.

The red sun of the Japanese flag fluttered in their wake.


+


I didn't end up dying, though. Not even after I turned ten years old.


I escaped my sickbed and went to grade school, and then to secondary school.

As part of Student Mobilization, I was sent to an airplane factory in a town called Inami in Tomiyama Prefecture, and I helped build reconnaissance aircraft there.

Almost all my grade school classmates died in carpet bombings.

My mother's rings were all gone, along with the rest of her jewelry, confiscated to help fund the war effort.

The soldiers of the 8th Division were dead as well, meeting their end in the southern Philippine islands.

I was lined up with the other student workers in the yard beside the airplane factory when I heard the news on the radio.

Defeat.

It was the summer of my sixteenth year.

The day set aside for Obon, the festival when the dead return.


+

The war ends.

The underground air raid shelters are filled in.

The soldiers are heroic spirits now. They will never come home, not even their bones.


+


It was in the midst of World War I that Conan Doyle wrote the Sherlock Holmes story "His Last Bow."

In it, Holmes says, "There's an east wind coming, Watson."

The east wind that blew in came from the German Empire.

It spread poison gas across the land. So many soldiers died in its mist.


"It will be cold and bitter, Watson, and a good many of us may wither before its blast. But it's God's own wind none the less."

Doyle himself lost his brother, Innes, and his son, Kingsley, in the war.
Not long after, Doyle became increasingly devoted to spiritualism.


"The Land of Mist" Book, Bookshelf 13×19.5×3.7cm

+


The war ended, but I lived on.

A new military force came to Hirosaki, this one an American expeditionary force called the Wildcats. They brought a genuine wildcat with them, a female they said they captured in the Philippines.

The former 8th Division Secretariat became the headquarters of the Allied Forces; the former 8th Division Field Artillery Regiment barracks became the Hirosaki Third Junior High School.


I went on to become the eleventh doctor in my line. Or rather, I was supposed to.





"Hospital" Silver-foil, Acrylic paint, Digital C-print    


+


By the time I decided to abandon my medical career and become a translator of Sherlock Holmes stories into Japanese, the expeditionary forces had left, my mother had died, my father had died, and my second wife was pregnant with what turned out to be our fourth daughter.

My second wife and I sit around the kitchen table in our house in Nerima. We begin to translate Sherlock Holmes.


+


I returned to the streets of Hirosaki for the first time when my fourth daughter turned three.

The Kakuha Miyagawa Department Store had become a large mall called simply HIROSAKI.

The red brick edifice of the old Army Hospital was still there, though.

My memory was vague, and I found I could no longer even remember where my old house used to be.

My daughters were tired and slept in the car as I drove around.

But when I closed my eyes and slowly opened them again, Mount Iwaki was still there in the distance, towering above the city.


+


I was seventy years old when I finally finished translating all sixty Sherlock Holmes stories into Japanese.

Doyle wrote the stories over a period of forty years, and I translated them over a period of thirty.


I look out the window with its perpetually broken rain shutters at the fig tree I planted with my second wife.





"Sixty Sherlock Holmes stories" 9 Books, Bookshelf 14×19.5×32cm


+

I died in summer. I was eighty-one years old.

One-hundred-and-ten years after Doyle's death, as it turned out.


"The Time of My Life" 1 Diamond, 80 Artificial Diamonds, mirror


A wind was blowing.

I slowly close my eyes.
Everything is white, as if shrouded in mist.


My orifices are filled with cotton, my body decorated with flowers and dry ice.

I am placed in a wooden coffin and burned until I'm only bones. I become white smoke.





+


Things I left behind sometimes turn up still, appearing unexpectedly.

But not as much anymore, and they too end up disappearing again, one by one.

The day may come when I will disappear entirely, perhaps.


This summer will be the eleventh since my death.


"Seance a daughter's daughter and a father/a daughter and a father" 56Se Video by Akiko Nishimura, Toru Akiyama


Text by Erika Kobayashi
Translated by Brian Bergstrom





旅の終わりは恋するものの巡り逢い

「ホームズ、君に会えて本当にうれしいよ。さあ座って、あの恐ろしい深淵からどうやって生還したか話してくれたまえ」
「空き家の冒険」 「シャーロック・ホームズの帰還」より


これは弘前に生まれたぼくが生きて死ぬ話

卍


ぼくはゆっくり目をあける。
あたりは深い霧に包まれたように真っ白だ。

ぼくがここ弘前の街に生まれたのはまだ雪が残る春だった。
津軽塗の器に料理が盛られ、盛大な祝いがはじまった。
母は宝石屋の娘で、父は第八師団弘前陸軍病院の軍医。専門はレントゲン。
代々続く医者の家系で、ぼくはその十一代目になるはずだった。


ぼくが生まれたそのとき、イギリス、サセックス州クロウバラでは名探偵シャーロック・ホームズ物語を書き終えたコナン・ドイルが、幾度目かの心臓発作を起こし、死に向かいつつあった。

蔦が生い茂る窓の向こうには、再婚した妻が造ったバラ園が広がっていた。

翌年、ドイルは死ぬことになる。享年七十一歳。

晩年、心霊主義に没頭していたドイルにとっては、しかしその死もまた「次の世界に移ったにすぎない」ということになる。

+

川に霧がたちこめる。

ぼくは女中におぶわれて、大通り沿いにあるエレベーターつきの角は宮川デパートを訪れる。
切妻屋根の活動写真館。バルコニーが目印の洋館づくりの呉服屋。幾つものカフェー。
第八師団がやってきて以来、ここ弘前は立派な軍都であった。
かつての弘前城はいま火薬庫で、藩主別邸はルネサンス風様式の偕行社になっていた。
ゆっくり瞬きすると、街の向こうに岩木山が聳えて見えた。

+

ぼくが弘前の街を去ったのは、二歳のときのことだった。
軍医だった父の赴任とともに、その後、ぼくは日本や満州のあちこちを転々とすることになる。
ぼくは病弱だったからその殆どが寝たきりだった。
父ではない医者がやってきて、母に言った。
「この子は十歳になるまで、生きられないでしょう」
母は指折り数える。
その指には、嫁入りの時に持たされたダイヤモンドの指輪が嵌っていた。

+

ぼくが去ってほどなくして、第八師団の兵士たちも行進しながらこの街を出ていった。
満州の戦場へ出かけるために。
街には日の丸旗が掲げられ揺れていた。

+

けれどぼくは十歳を過ぎても死にはしなかった。
ぼくは布団を抜け出して、中学へ、高等学校へ、通いはじめる。
ぼくは学徒動員で富山県伊波の飛行機工場で新司偵という飛行機を造った。
中学の同級生たちは空襲で殆どが死んでしまった。
母は指輪もなにもかもを供出してしまった。
第八師団の兵士たちは南方フィリピンで死んでいた。
ぼくは飛行機工場の庭で整列したまま、ラジオを聞く。
敗戦。十六歳の夏だった。
盆の慰霊まつりがおこなわれる予定の日であった。

+

戦争が終わる。
防空壕を埋める。
英霊になった兵士たちは、もう骨さえ帰ってこない。

+

ドイルがシャーロック・ホームズ物語『最後の挨拶』を書いたのは、第一次世界大戦最中のことだった。
ホームズはワトスンに向かってこう語る。
「でも、やはり東風(ルビ:こち)は吹いているのだ。」
東風(ルビこち)はドイツ帝国の方角から吹いていた。
毒ガスが撒かれ、その霧の中であまりにも多くの兵士たちが死んでいた。

「本当に冷たくて、厳しい風だから、ワトスン、ぼくたちのうち、どれくらいたくさんの人間が死んでしまうかわからない。でも、これも、神の思し召しがあって送られてきた風には違いない。」
戦争で、ドイル自身も弟のイネスを、息子のキングスリーを、失った。
ほどなくして、ドイルは心霊主義に熱中してゆくことになる。

+

戦争が終わってもなお、ぼくは生き続ける。
弘前の街にはアメリカの進駐軍、山猫(ルビ:ワイルドキャット)部隊がやってくる。フィリピンで手に入れたという本物の雌の山猫も一緒であった。
かつての第八師団長官舎はいまや連合軍司令部で、野砲兵第8連隊兵舎は第三中学校舎になっていた。
ぼくはそれから十一代目の医者になる。なるはずだった。

+

けれどぼくが医者をやめてシャーロック・ホームズ物語の翻訳家になることを決めたのは、進駐軍が去り、母が死に、父が死に、再婚した妻が四人目の娘を妊娠していたときのことだった。

ぼくは再婚した妻と一緒に、東京練馬の家の台所のテーブルの上で、シャーロック・ホームズ物語を翻訳しはじめる。

+

弘前の街を、ぼくがふたたび訪れたのは四人目の娘が三歳のときのことだった。
角は宮川デパートは、HIROSAKIという名前の真新しいファッションビルになっていた。
弘前陸軍病院の赤レンガの建物だけはまだそこにあった。
けれど記憶はなにもかも曖昧で、ぼくはぼくの家がどこにあったのかさえ、もうわからない。
娘たちは疲れて車の中で眠ったままだった。
ゆっくり瞬きすると、やっぱり街の向こうに岩木山が聳えて見えた。

+

シャーロック・ホームズ物語六〇篇を全篇翻訳し終えたとき、ぼくは七十歳を過ぎていた。
ドイルは約四十年にわたりホームズ物語を書き続け、ぼくは約三十年にわたりホームズ物語を翻訳しつづけたということになる。
雨戸が壊れたままの窓の向こうには、再婚した妻と一緒に植えたいちじくの木が見えた。

+

ぼくが死ぬのは、八十一歳の夏。
ドイルが死んでからちょうど八〇年目の年のことだった。

風が吹いていた。
ぼくはゆっくり目をとじる。
あたりは深い霧に包まれたように真っ白だ。
ぼくの身体は、穴には綿が詰められ、ドライアイスと花で飾られた。
それから木の棺桶ごと焼かれて骨になって、白い煙になった。

+

ぼくが残したものが、ときどきふとここにたち現れる。
けれどそれも、ひとつまたひとつと消えてゆく。
いつか完全にぼくが失われてしまう日は来るのだろうか。

今年はぼくが死んでから十一年目の夏になる。