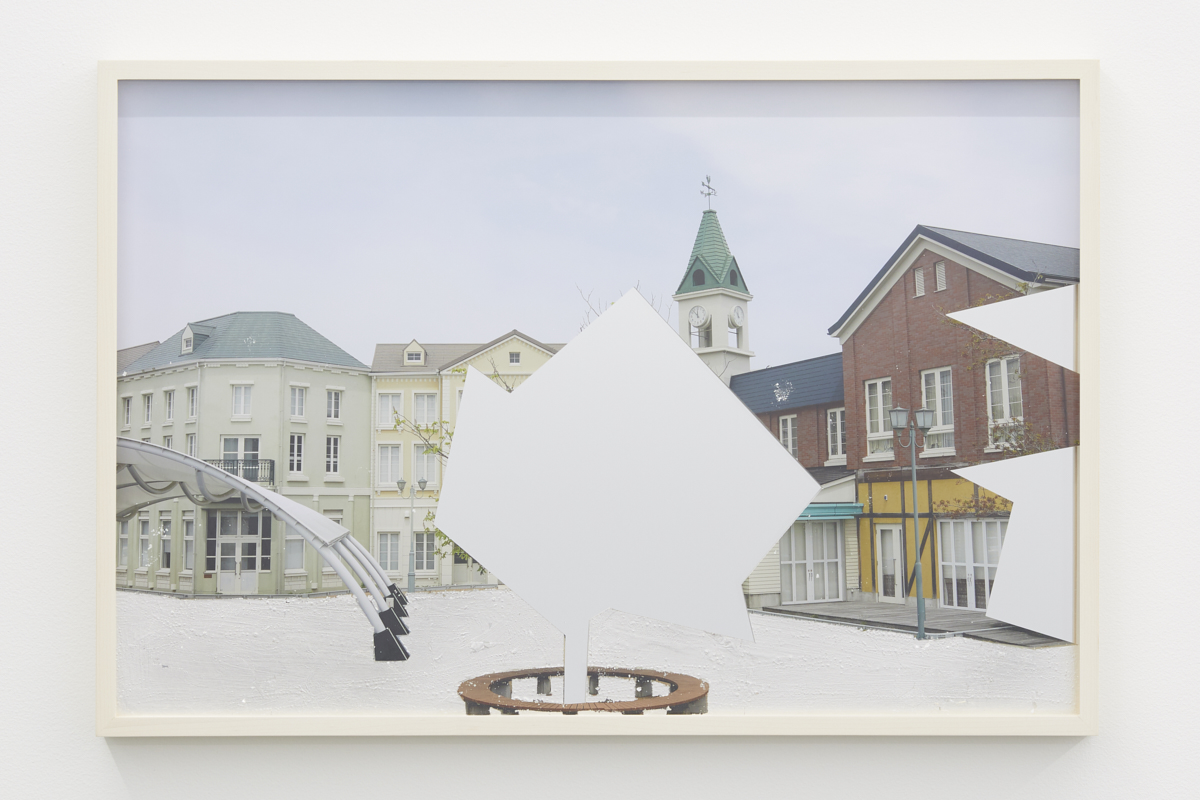 "TEPCO Decommissioning Archive Center(Former Energy Museum
at Tomioka town in Fukushima prefecture)", 2019
The facades were designed to emulate the houses where Albert Einstein, Marie Curie and Thomas Edison were born.
Digital silver halide print, Silver foil, Acrylic mirror
40 x 60 cm

Courtesy of Yutaka Kikutake Gallery


野鳥の森 1F
1F in the Forest of Wild Birds
February 1-March 9, 2019
Yutaka Kikutake Gallery

小林エリカは、東京電力福島第一原子力発電所を訪れ、かつてその構内に存在した植物たちの植生に着目しました。現在、汚染水タンク置き場になっているその広大な土地は、木々や草花が生い茂り鳥の声が聞こえる「野鳥の森」と呼ばれる場所だったと言います。原子力発電所の事故後、木々は伐採され、放射線量を抑えるために、地面一帯は銀色のモルタルに覆われたエリアになっています。小林は、過去の時間と放射性物質の存在を重ね合わせ、目には見えないものたちへの想像力を喚起させる作品を制作しました。
これまで小林は小説家やマンガ家として作品を発表し高い評価を得るかたわら、ドローイングやシルクスクリーン、写真、鏡、光や音など多様なメディアを用いた作品を制作してきました。2011年の東日本大震災以前から、原子力エネルギーのリサーチを多角的に行い、自身の家族の個人史とも重ね合わせながら、資料性の高さと豊かな詩情に裏打ちされた作品を発表。六本木クロッシング2016展「僕の身体、あなたの声」では、ドローイング、ネオン、音からなるインスタレーション作品「日出ずる(Sunrise)」(2016年)に纏めあげました。今回発表される新作たちは、福島の森にかつて存在していた花々の姿を想起させるようなペインティングとともに、原子力エネルギーにまつわるより繊細な記憶に着目した作品となります。


Erika Kobayashi visited TEPCO's Fukushima Daiichi Nuclear Power Plant, turning her attention to the vegetation that had once existed in the premises. The vast plot of land currently serving a storage site for tanks containing contaminated water had once been referred to as the "Forest of Wild Birds," a place richly overgrown with trees and flowers, where the voices of various birds could be heard. The trees were cut down after the accident at the nuclear power plant, and the entire grounds of the area is now covered in silver mortar in order to reduce radiation levels. Kobayashi overlays the time of the past with the presence of radioactive material to create works that summons our imagination towards things that are invisible to the eye.

While receiving high acclaim for her publications as a writer and comic artist, Kobayashi has continued to produce an eclectic array of works encompassing various mediums from drawing to silkscreen, photography, mirrors, light, and sound. Conducting multi-faceted research into nuclear energy from prior to the Great East Japan Earthquake of 2011, she engages in creating works that are grounded by their highly informative nature and rich sense of poetry, also overlaying her personal family history into the context of her practice. Such concepts and considerations were brought together in the installation work "Sunrise" (2016) comprising drawings, neon, and sound, which was presented at "Roppongi Crossing 2016: My Body, Your Voice." The new works presented on this occasion, along with paintings reminiscent of flowers that had once grown in Fukushima's forest, are inspired by the more delicate and subtle memories concerning issues of nuclear energy.